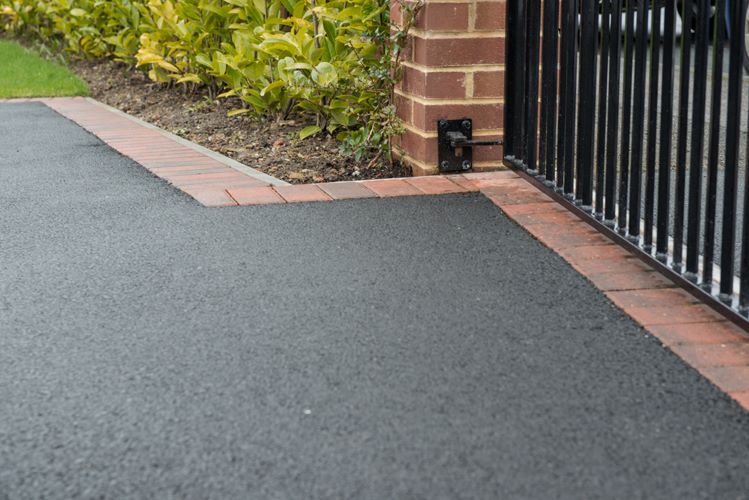 Tarmac is popular choice for driveways, car parks and other outside spaces and is often chosen due to the fact that it offers a cost effective solution.  However, there are several other benefits beyond price that make tarmac a good surfacing choice.
Speed of Installation
In some instances, you may have a tight window in which to undertake the installation of your driveway or car park, which can rule out some of the more time consuming surfacing options.  Tarmac is much quicker to install than many other surfacing materials and large areas and can be prepared a laid in a matter of days.  In addition, where other surfaces require a full bed to be laid as part of the installation, tarmac he can sometimes be laid directly onto an existing surface, dependant on what the existing material is.
Customizable
Some people may be put off by tarmac as a surfacing option, especially for a driveway, as it offers a universal and simple appearance.  However, there are ways of adding detail to a tarmac installation in order to make it much more visually appealing.  In addition to the different colour tarmac choices that are available, you can also add to the aesthetics by incorporating paving into the design.  This could be anything from block paved borders and parking demarcation, to utilising paving slabs for pathways and steps.
Durability
Although tarmac is quick and relatively easy to install, this doesn't impact on performance or longevity.  In fact, once the tarmac has cooled and the particles are fully bound together, the surface becomes extremely durable.
Low Maintenance
Although, as mentioned above, tarmac is a very resilient material, there are instances where it may become damaged.  Any scratches or scores on a tarmac surface can be repaired relatively easily and at minimal cost.  Where a tarmac surface has become seriously damaged, you have the option of installing a new layer, without the need to do undertake a full construction from the subbase up.
To discuss tarmac options and how it might be utilised in your project, give us a call on 0113 8241390, complete our contact form, or email us at info@oakwell-paving.co.uk.
Our Coverage
Leeds, Pudsey, Guiseley, Menston, Ilkley, Otley, Wakefield, Huddersfield, Skipton, Harrogate and Halifax.