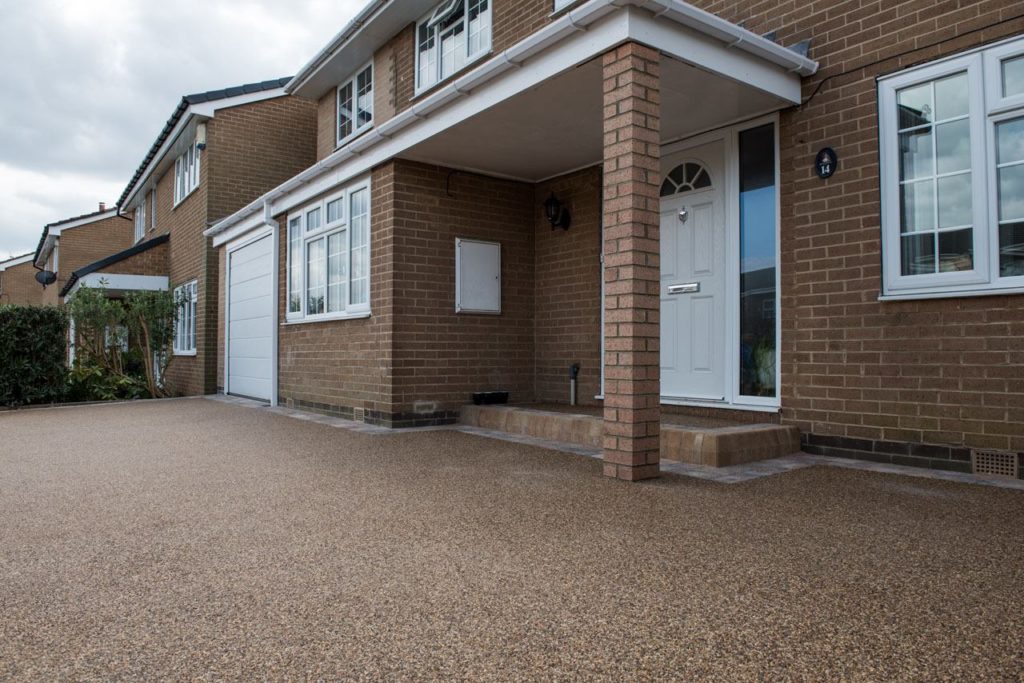 Whilst resin bonded surfacing sounds very similar to resin bonded surfacing, the techniques involved are actually very different.  With resin bonded driveways or patios, the aggregate is applied to a suitable surface using a scatter system.  Unlike resin bound, resin bonded it is not a permeable surfacing solution.  However, where drainage is not an issue, resin bonded does offer benefits over other surfacing options.
Cost Effective
Dependant on the existing material of the area you are looking to replace, resin bonded surfaces can often work our cheaper than other alternatives.  This is thanks to the fact that it can be applied to existing surfaces, such as block paving and tarmac; removing costs of excavation and creating a suitable base on which to lay.
Textured Finish
The fact that gravel is scattered onto the surface after the resin has been applied means that you end up with a rough or textured finish.  The result is a rustic appearance, which is often desirable on older properties.
Anti-Slip Surface
Another benefit that textured resin bonded surfaces offer is that they are anti-slip, as they are resistant to oil, fuel spills and water.  They even provide good grip during cold and icy periods.
If you would like to hear more about resin bonded surfacing and whether it is a suitable option for your project, simply give us a call on 0113 8241390, email at info@oakwell-paving.co.uk or fill in our contact form. 
Our Coverage
Leeds, Pudsey, Guiseley, Menston, Ilkley, Otley, Wakefield, Huddersfield, Skipton, Harrogate and Halifax.